I wish on the Worship Worthy website, which has hot stuff and they have a great article on a Brooklyn Flea Market.


20,000 people can't be wrong. The Brooklyn Flea is this summer's Sunday post-brunch spot!
The folks of Brownstoner.com have started the Flea just in time as Chelsea's flea markets continue to dwindle due to new developments. The Brooklyn Flea takes place every Sunday - rain or shine - and boasts 40,000 square feet of records, clothes, jewelry, crafts, and more in the lot of Bishop Loughlin Memorial High School in Fort Greene. Each week the Flea has almost 200 vendors of vintage furniture, clothing and antiques alongside new designs by local makers of everything from jewelry to textiles.
Stop by the 3G Kicks booth for vintage Air Force 1s and look out for great furniture finds like Eames rockers or Nelson clocks. The Demolition Depot has recovered items from all sorts of old buildings, including some church lecterns that would make a great alternative to a coffee table for displaying books.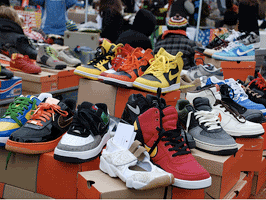 Photo Amy Sahba
If you are famished from successful shopping, the Flea has cupcakes from Kumquat Cupcakery and goodies from Choice Market, and has plans to add more food vendors soon. While snacking you can visit the SavePolaroid.com booth and learn what you can do to keep the film in production.
While the selection is already immense, the Flea wants your opinion. Visit Brownstoner's Brooklyn Flea blog for updates on what to expect as well as a chance to share what you liked, disliked, and have to have.
The Brooklyn Flea
Sundays from 10am-5pm
Lafayette and Vanderbilt Ave
Fort Greene